We don't work without you
Maintenance Planner Scheduler $5K Sign On Bonus
Mapleton, Illinois
07/05/2023
4250176006
Overview
An ATS leader is defined as anyone who inspires, guides and influences others in our business. While ATS leaders have a wide variation in leadership experience, all believe deeply in continuous improvement, including the ongoing development of leadership capabilities and employee competencies. ATS leaders look to the future but know how to lead a team to quickly get the right things done the right way. ATS leaders are trusted and transparent — people at work and in their communities look to them for support and guidance.

Our ATS leaders are accountable for their actions and drive accountability to our priorities and goals through clarity of what needs to be done and why. They communicate proactively and regularly with each other and with employees at all levels.
Success Profile
What makes a successful ATS Leader? Check out the top traits we're looking for and see if you have the right mix.
Collaborative
Communicator
Critical Thinker
Facilitator
Relationship expertise
Leadership
Meet our people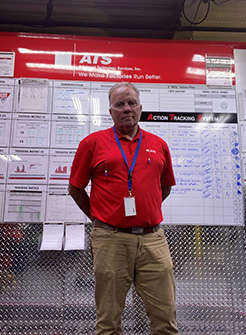 Vic G.
Site Manager
What have you done to help you get promoted
I shadowed a leader who was gifted in bringing his team up with him. On-the-job learning, especially on WEM, and trying new things, like "Doc Palmer's Maintenance Planning & Scheduling Handbook."
What advice would you give others at ATS?
Mentor. You see team members who outperform on every challenge they have before them. As you move along, elevate your team alongside you.
What's next for you?
Achieve FMS OS Gold certification for my site, become a Safety Trained Supervisor, and get promoted to a Senior Site Manager.
Jay D.
Regional Planner/Scheduler
What have you done to help you get promoted
I am extremely passionate about the Planning/scheduling role and process. I thoroughly enjoy being able to mentor new Planners, which has allowed me to share my knowledge with new, young talent. Volunteering to pilot new programs gave me and my site the ability to be a part of driving positive cultural change. Being part of a team that helps drive efficiency and standardization motivates me to come to work every day.
What advice would you give others at ATS?
Be passionate about what you do and how you do it. Show initiative and take ownership. Be willing to help develop your team by sharing your knowledge and past experiences.
Jason M.
Site Supervisor Caterpillar
What have you done to help you get promoted
I took all the training I could on ToolingU for leadership and management and filled in for my Supervisor whenever he was out.
What advice would you give others at ATS?
Do not be afraid to try new things. No matter what you're doing, always try and get a little better each day.
What's next for you?
Concentrate on my new responsibilities and help others move up in their careers.
Responsibilities
Job ID 4250176006
Date posted 07/05/2023
Founded in 1985, ATS is a company with a presence in the United States, Mexico and the United Kingdom. We are professionals in Industrial Maintenance and we make factories run better.
Fundada en 1985, ATS es una empresa con presencia en los Estados Unidos, México y el Reino Unido. Somos profesionales en mantenimiento industrial y hacemos que las fábricas funcionen mejor.
Principal Duties/Responsibilities:
· Evaluates non-emergency work requests, develops scope of work, and inspects job location to determine job requirements.
· Estimates labor hours, skillsets, parts, materials, equipment and special tools required to complete proactive jobs in a safe and efficient manner.
· Gathers relevant technical documentation such as drawings, schematics, specifications, spare parts lists from equipment histories, OEM manuals and the Knowledgebase system. Verifies the availability of parts prior to scheduling the job. Arrange for special tools and auxiliary equipment when required.
· Maintains an organized and prioritized work order backlog to determine the next highest priority jobs to be planned next and maintains the Ready Backlog at or above 80%.
· Employs the continuous improvement process to update Job Plans for accuracy and effectiveness.
· Conducts weekly planning & scheduling meetings with Production to determine work order priorities, communicate work order status and alter planned maintenance activities if necessary.
· Creates a Weekly Technician Schedule that includes priority planned jobs and preventative maintenance tasks that utilize 100% of the available technician labor hours.
· Improves work order planning and scheduling effectiveness through the review process and use of the maintenance metrics.
· Maintains records and files essential to meaningful analysis and reporting of maintenance related matters.
· Trains site employees on CMMS and ensures that it is working with integrity and is being utilized.
Knowledge, Skills, Abilities (KSAs), & Competencies:
Essential KSAs:
· Associate Degree required in a technical field with 1-3 years of maintenance scheduling / planning experience and/or 5 – 10 years as a machine repair technician, or equivalent combination of both
· Familiar with industrial manufacturing environment
· Electrical/mechanical aptitude
· Proficiency with computers, maintenance systems, and applications including Microsoft Office
· Excellent verbal communication, facilitation, and presentation skills
· Ability to build and maintain positive, professional relationships
Desirable KSAs:
· Desire to develop leadership attributes
· Experience in job plan development, job scheduling, and work execution
· Project management and capital project experience preferred
· CMRP certification
· Green Belt certification
· STS certification
Competencies:
· Drive & Motivation
· Interpersonal Skills
· Task Management
· Strategic Skills
· Customer Focus
Physical Demands and Working Conditions:
While performing the duties of this job, the employee is regularly required to stand; walk; use hands/fingers to handle, or feel; reach with hands and arms; climb, ascend/descend or balance to heights that may require a ladder or lift; stoop, kneel, crouch, or crawl in confined spaces; and talk or hear. The employee is occasionally required to sit. The employee must occasionally lift and/or move more than 50 pounds. The employee is regularly required to use close vision and color vision. The employee is occasionally exposed to outside weather conditions and risk of electrical shock. Work is typically performed in a factory environment and is usually very loud. In the factory environment, the employee may be exposed to hazardous materials and/or greasy or slippery factory floors.
ATS is committed to providing equal employment opportunity in all aspects of employment to all applicants and employees, regardless of age, color, race, religion, sex (including pregnancy, gender identity, and sexual orientation), national origin, disability, veteran status, genetic information or other legally protected status.
ATS se compromete a brindar igualdad de oportunidades de empleo en todos los aspectos del empleo a todos los solicitantes y empleados, independientemente de su edad, color, raza, religión, sexo (incluido el embarazo, identidad de género y orientación sexual), origen nacional, discapacidad, estatus de veterano, información genética u otro estatus legalmente protegido. Revisión de la política de privacidad aquí here.
Privacy policy review here.
Apply Now
Benefits & perks
Healthcare

Medical

Dental

Vision

Healthcare FSA

401(k)/Retirement Plans

Employer Matching

Tutition Reimbursment

Professional Development

Paid Time Off

Holidays

Relocation Reimbursement