We don't work without you
Manufacturing Maintenance Manager
Navasota, Texas
09/27/2023
4285445006
Overview
An ATS leader is defined as anyone who inspires, guides and influences others in our business. While ATS leaders have a wide variation in leadership experience, all believe deeply in continuous improvement, including the ongoing development of leadership capabilities and employee competencies. ATS leaders look to the future but know how to lead a team to quickly get the right things done the right way. ATS leaders are trusted and transparent — people at work and in their communities look to them for support and guidance.

Our ATS leaders are accountable for their actions and drive accountability to our priorities and goals through clarity of what needs to be done and why. They communicate proactively and regularly with each other and with employees at all levels.
Success Profile
What makes a successful ATS Leader? Check out the top traits we're looking for and see if you have the right mix.
Collaborative
Communicator
Critical Thinker
Facilitator
Relationship expertise
Leadership
Meet our people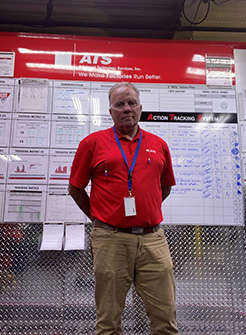 Vic G.
Site Manager
What have you done to help you get promoted
I shadowed a leader who was gifted in bringing his team up with him. On-the-job learning, especially on WEM, and trying new things, like "Doc Palmer's Maintenance Planning & Scheduling Handbook."
What advice would you give others at ATS?
Mentor. You see team members who outperform on every challenge they have before them. As you move along, elevate your team alongside you.
What's next for you?
Achieve FMS OS Gold certification for my site, become a Safety Trained Supervisor, and get promoted to a Senior Site Manager.
Jay D.
Regional Planner/Scheduler
What have you done to help you get promoted
I am extremely passionate about the Planning/scheduling role and process. I thoroughly enjoy being able to mentor new Planners, which has allowed me to share my knowledge with new, young talent. Volunteering to pilot new programs gave me and my site the ability to be a part of driving positive cultural change. Being part of a team that helps drive efficiency and standardization motivates me to come to work every day.
What advice would you give others at ATS?
Be passionate about what you do and how you do it. Show initiative and take ownership. Be willing to help develop your team by sharing your knowledge and past experiences.
Jason M.
Site Supervisor Caterpillar
What have you done to help you get promoted
I took all the training I could on ToolingU for leadership and management and filled in for my Supervisor whenever he was out.
What advice would you give others at ATS?
Do not be afraid to try new things. No matter what you're doing, always try and get a little better each day.
What's next for you?
Concentrate on my new responsibilities and help others move up in their careers.
Responsibilities
Job ID 4285445006
Date posted 09/27/2023
Founded in 1985, ATS is a company with a presence in the United States, Mexico and the United Kingdom. We are professionals in Industrial Maintenance and we make factories run better.
Fundada en 1985, ATS es una empresa con presencia en los Estados Unidos, México y el Reino Unido. Somos profesionales en mantenimiento industrial y hacemos que las fábricas funcionen mejor.
Principal Duties/Responsibilities:
To Live and Lead Safety
· Takes responsibility for employee safety and wellness by deploying the ATS safety program and ensuring effective completion of safety training, observations, and incident investigations.
· Implements and actively supports all Beyond Zero initiatives
· Enables the growth of a customer safety culture by a fostering a safety partnership and sharing best practices
To Inspire and Provide Clarity on Vision and Strategy
· Motivates employees by communicating a clear vision that enables all employees to understand the rationale for, and the benefit of, both site-level and company-wide objectives
· Acts as an effective change agent, leading the implementation of strategic initiatives through positive team communications, appropriate action planning, and successful implementation activities
· Understands and appropriately articulates both ATS and customer strategies, providing the team with line of sight between team responsibilities and strategic outcomes
To Own Our ATS Culture
· Builds positive relationships with ATS employees, customers, and peers through open communication and role-modeling the ATS leadership core competencies of honesty and respect
· Sets a positive, influential standard for others and creates a constructive climate for their team
· Influences with transparency and use participative methods to ensure that decisions are understood and accepted
· Establishes a positive work environment through managing and personalizing onboarding; engaging in ongoing one-on-one communications; and recognizing individual contributions and achievements on a timely basis
· Adheres to policies and procedures and ensures that staff understands the rationale behind policies and processes
To Support Our Employees' Learning and Growth
· Leads and builds team capabilities by working with individuals on performance improvement, career planning, training, and skills development.
· Develops, communicates, and executes a Skills Matrix and Technician Training Plan
· Builds and maintains a succession plan for key positions (i.e., Supervisors, Supply Chain, P/S, RE)
To Ensure and Drive our Business Results
· Leads and ensures the Operating System is understood, reinforced, and embedded
· Develops and executes a site-specific maintenance plan per ATS standards
· Manages financial performance of the site (revenue, expenses, and profit) to achieve set objectives
· Develops and maintains effective relationships with all ATS business units, fully utilizing their services and ensuring cross-functional alignment
· Collaborates with and builds customer relationships to ensure priority alignment and proactively anticipates customer needs as the primary on site contact
· Ensures alignment of customer expectations and ATS site goals through management of site-specific contracts
· Communicates with the customer through daily, weekly, and monthly meetings and conducts a regular review of the performance metrics with the customer
· Drives a continuous improvement methodology and promotes cost savings
· Analyzes and reports on key performance indicators, completing root cause analyses and developing and executing action items while removing barriers and addressing issues
· Collaborates with sales and operations leadership to increase the scope of services
Knowledge, Skills, Abilities (KSAs), & Competencies:
Essential KSAs:
· Bachelor's degree in technical, business, or a related field preferred or seven years of operations / maintenance experience
· Three years of supervisory experience with a strong focus on development of employees
· Resilient and flexible, able to multitask and prioritize with an innate ability to understand and accept change and motivate others around change
· Highly tuned emotional intelligence with demonstrated ability to build relationships and lead teams with honesty and integrity to achieve goals
· Solid understanding of manufacturing / assembly work environment
· Business acumen
· Positive influencer with appropriate levels of organization.
· Strong customer focus with the ability to build positive business relationships and show a sense of urgency
Desirable KSAs
· Manufacturing maintenance experience preferred with related certifications and training
· Good understanding of, and/or experience with, proactive/reliability maintenance processes, i.e., Planning/Scheduling, P/M, PdM, and root cause analysis, and continuous improvement methodologies
· Good computer skills, including Microsoft applications and web-based applications such as Power BI, GEAC, Concur, Workday and related software
· Time management skills
· Ability to relocate to specified locations
· Excellent communications skills (verbal, written, and presentation)
· Agile, curious learner and authentic, credible teacher
· Financial acumen and knowledge of forecasting and managing budgets
Leadership Core Competencies:
Business and Company Acumen
Lead with honesty and integrity
Build bold and relevant strategies
Welcome and motivate change
Recognize the right outcomes and how they were achieved
Role model safety and wellness
Emotional Intelligence
Provide psychological safety
Be self-aware
Build relationships
Ask for and act on feedback
Respect diverse background and viewpoints
Lead in the Present; Eye to the Future
Commit to accountability
Coach people to their potential
Own talent development and placement
Turn problems into opportunities
Be resilient and flexible
Communicate, Communicate, Communicate
Practice transparency
Build relationships through respect
Be a curious learner and credible teacher
Influence in a proactive, positive way
Ensure cross functional awareness/decisions
ATS is committed to providing equal employment opportunity in all aspects of employment to all applicants and employees, regardless of age, color, race, religion, sex (including pregnancy, gender identity, and sexual orientation), national origin, disability, veteran status, genetic information or other legally protected status.
ATS se compromete a brindar igualdad de oportunidades de empleo en todos los aspectos del empleo a todos los solicitantes y empleados, independientemente de su edad, color, raza, religión, sexo (incluido el embarazo, identidad de género y orientación sexual), origen nacional, discapacidad, estatus de veterano, información genética u otro estatus legalmente protegido. Revisión de la política de privacidad aquí here.
Privacy policy review here.
Apply Now