We don't work without you
Director of Maintenance Field Operations - Ozarks
Kansas City, Missouri
11/15/2023
4285426006
Overview
An ATS leader is defined as anyone who inspires, guides and influences others in our business. While ATS leaders have a wide variation in leadership experience, all believe deeply in continuous improvement, including the ongoing development of leadership capabilities and employee competencies. ATS leaders look to the future but know how to lead a team to quickly get the right things done the right way. ATS leaders are trusted and transparent — people at work and in their communities look to them for support and guidance.

Our ATS leaders are accountable for their actions and drive accountability to our priorities and goals through clarity of what needs to be done and why. They communicate proactively and regularly with each other and with employees at all levels.
Success Profile
What makes a successful ATS Leader? Check out the top traits we're looking for and see if you have the right mix.
Collaborative
Communicator
Critical Thinker
Facilitator
Relationship expertise
Leadership
Meet our people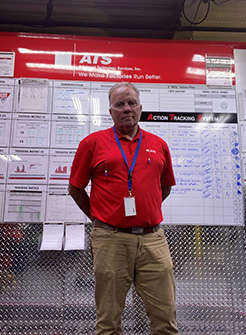 Vic G.
Site Manager
What have you done to help you get promoted
I shadowed a leader who was gifted in bringing his team up with him. On-the-job learning, especially on WEM, and trying new things, like "Doc Palmer's Maintenance Planning & Scheduling Handbook."
What advice would you give others at ATS?
Mentor. You see team members who outperform on every challenge they have before them. As you move along, elevate your team alongside you.
What's next for you?
Achieve FMS OS Gold certification for my site, become a Safety Trained Supervisor, and get promoted to a Senior Site Manager.
Jay D.
Regional Planner/Scheduler
What have you done to help you get promoted
I am extremely passionate about the Planning/scheduling role and process. I thoroughly enjoy being able to mentor new Planners, which has allowed me to share my knowledge with new, young talent. Volunteering to pilot new programs gave me and my site the ability to be a part of driving positive cultural change. Being part of a team that helps drive efficiency and standardization motivates me to come to work every day.
What advice would you give others at ATS?
Be passionate about what you do and how you do it. Show initiative and take ownership. Be willing to help develop your team by sharing your knowledge and past experiences.
Jason M.
Site Supervisor Caterpillar
What have you done to help you get promoted
I took all the training I could on ToolingU for leadership and management and filled in for my Supervisor whenever he was out.
What advice would you give others at ATS?
Do not be afraid to try new things. No matter what you're doing, always try and get a little better each day.
What's next for you?
Concentrate on my new responsibilities and help others move up in their careers.
Responsibilities
Job ID 4285426006
Date posted 11/15/2023
Founded in 1985, ATS is a company with a presence in the United States, Mexico and the United Kingdom. We are professionals in Industrial Maintenance and we make factories run better.
Fundada en 1985, ATS es una empresa con presencia en los Estados Unidos, México y el Reino Unido. Somos profesionales en mantenimiento industrial y hacemos que las fábricas funcionen mejor.
Principal Duties/Responsibilities:
Drives a culture of safety and wellness through personal example and through actively engaging sites in the achievement of safety objectives.

Fosters preventive measures, encourages education, and completes auditing activity to create an environment for zero incidents.

Leads and deploys ATS's safety initiatives and employee health and wellness in support of our Beyond Zero initiatives.

Engages and leads all safety investigations for incidents involving CLSRs/LOTO and accidents.
To Inspire and Provide Clarity on Vision and Strategy
Is accountable for his/her actions and behaviors, driving accountability to priorities and goals through clear communication of what needs to be done and why.

Demonstrates a thorough understanding of the vision, executing both long-term and short-term strategies, enabling direct reports to understand the value of site-level initiatives to the achievement of company-wide objectives.

Acts as a champion for positive change, and coaches direct reports in the effective communication and implementation of new/revised processes and procedures.
Provides leadership in formulating and administering company policies and best practices, including role modeling as well as teaching and setting expectations for ATS Culture behaviors.

Observes team interactions to monitor engagement and identify potential concerns. Investigates for root cause issues when there are engagement gaps. Actively supports engagement surveys, working with the Site Manager to develop corrective action plans and to ensure completion of identified actions.

Models the key competencies for ATS leaders, promoting the competency model and coaching others in the consistent demonstration of leadership behaviors.

Builds a culture of engaged, high performing employees by setting clear expectations, providing opportunities for growth and development, and giving ongoing performance feedback.
To Support Our Employees' Learning and Growth
Ensures that site technician skills assessments, training and development plans are in place and are actively used for development, promotion, and performance management purposes.

Recognizes employees' contributions to the organization and encourages best practice sharing across the organization.

Collaborates with HR Business Partners to resolve people-related issues and to share business updates as well as future actions/opportunities to ensure proactive people support plans are in place.
To Ensure and Drive our Business Results
Ensures that the Operating System is fully understood, frequently reinforced, and embedded across all locations.
Ensures that all sites develop and execute a site-specific maintenance plan per ATS standards.

Monitors service level KPIs, Balanced Scorecard and customer dashboards.

Delivers quarter by quarter financial results across the portfolio of business within the area of responsibility.

Accountable for improving efficiency and effectiveness of workforce through the management of labor hours, labor utilization, backlog hours, PM optimization, and the implementation of tools and processes designed to improve labor productivity across their portfolio of business.

Hires new employees with an eye to future potential; identifies current strong performers with growth potential; and executes succession planning to ensure bench strength for critical positions.
Builds strong relationships with site and division customers in the context of customer expectations and ATS commitments. Promotes customer loyalty via customer surveys, effective communication, and responsive actions.

Supports the Site Manager where contract changes or interpretation is required.

Ensures customer satisfaction by understanding the unique needs of each customer, facilitating solution development, following up on progress, and assisting managers with taking corrective actions as needed.

Reviews operational metrics with customers to measure, illustrate, and communicate ATS's value.

Executes organizational support and growth strategies for area.
Collaborates with the team and with existing customers to expand ATS's business, including opportunities for cost savings, quality improvements, and new ways to leverage the ATS relationship.

Engages the sales team on new business opportunities through collaborating on assessments, developing new contract solutions, and creating models to support the scope of the potential new contract.
Knowledge, Skills, Abilities (KSAs), & Competencies:
Bachelor's degree in business, engineering, operations management, or a related field and eight years of experience with business / operational management in a related industry or an equivalent combination of education and experience.

Strong understanding of manufacturing work environment.

Demonstrated leadership ability.
High emotional intelligence quotient with ability to effectively interact with multiple stakeholders, i.e., technicians, site leadership, ATS senior leadership, and customers.

Solid financial acumen and experience managing P&Ls and financial forecasting.

Experience leading change management in an organization.

Demonstrated capability to think strategically and to articulate strategic plans.

Extensive travel required.
Maintenance management experience preferred.

Experience leading managers across multiple locations preferred.

Proven experience with operational excellence & continuous improvement methodologies.
Experience with new customer integrations or startup activities.
Leadership Core Competencies:
Business and Company Acumen
Lead with honesty and integrity
Build bold and relevant strategies
Welcome and motivate change
Recognize the right outcomes and how they were achieved
Role model safety and wellness
Provide psychological safety
Ask for and act on feedback
Respect diverse background and viewpoints
Lead in the Present; Eye to the Future
Coach people to their potential
Own talent development and placement
Turn problems into opportunities
Be resilient and flexible
Communicate, Communicate, Communicate
Build relationships through respect
Be a curious learner and credible teacher
Influence in a proactive, positive way
Ensure cross functional awareness/decisions
Physical Demands and Working Conditions: While performing the duties of this job, the employee is regularly required to stand; walk; use hands/fingers to handle, or feel; reach with hands and arms; climb, ascend/descend or balance to heights that may require a ladder or lift; stoop, kneel, crouch, or crawl in confined spaces; and talk or hear.  The employee is occasionally required to sit.  The employee must occasionally lift and/or move more than 50 pounds.  The employee is regularly required to use close vision and color vision.  The employee is occasionally exposed to outside weather conditions and risk of electrical shock.  Work is typically performed in a factory environment and is usually very loud. In the factory environment, the employee may be exposed to hazardous materials and/or greasy or slippery factory floors.
ATS is committed to providing equal employment opportunity in all aspects of employment to all applicants and employees, regardless of age, color, race, religion, sex (including pregnancy, gender identity, and sexual orientation), national origin, disability, veteran status, genetic information or other legally protected status.
ATS se compromete a brindar igualdad de oportunidades de empleo en todos los aspectos del empleo a todos los solicitantes y empleados, independientemente de su edad, color, raza, religión, sexo (incluido el embarazo, identidad de género y orientación sexual), origen nacional, discapacidad, estatus de veterano, información genética u otro estatus legalmente protegido. Revisión de la política de privacidad aquí here.
Privacy policy review here.
Apply Now