We don't work without you
Field Service Maintenance Technician Specialist
Peoria, Illinois
02/17/2022
10018116_POS43102
Overview
Our people are what make ATS successful. That's why we place the highest value on hiring great people so we can continue providing the best service for our customers. Hiring great people is the foundation on which the entire company was built. When you work at ATS you know you'll be surrounded by genuine people who will support you both personally and professionally.
Success Profile
What makes a successful Field Service Maintenance Technician Specialist at ATS? Check out the top traits we're looking for and see if you have the right mix.
Critical thinker
Detail-oriented
Focused
Multi-tasker
Problem-Solver
Team player
Meet our people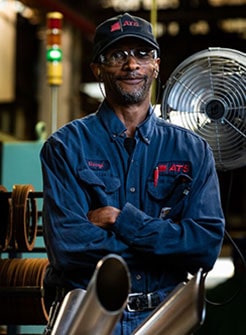 Darryl
Senior Maintenance Technician
What makes your job rewarding?
One of the great things about ATS is we all work as a team. It feels like a family.
I like that every day is different, and I get to wear many different hats. Some days I'll be repairing a conveyer, on others I'll troubleshoot an electrical problem or work on pumps.
When I finish a job for the customer and they thank me, I know that they really appreciate what I did. Sometimes they'll even email my site manager to compliment my work.
What do you like to do outside of work?
I like to work on cars, go to car shows, and go hunting.
Victoria
Demand Generation Representative
What makes your job rewarding?
I like that I have the freedom to take on new responsibilities. And I have the support to learn new skills.
I'm really contributing here. One of my proudest moments was finding a gap in data analytics and figuring out a new process to fill it.
What do you like to do outside of work?
I love to play volleyball, read, and walk my dog.
Jimmy
Tool & Die Maker
What makes your job rewarding?
One of the best things about my job is the people I work with. Everyone gets along and people are always willing to help.
I love that I learn something new every day about my trade. What I've learned has helped me do things like troubleshooting and maintaining a 10-speed transmission dies for automotive companies.
What do you like to do outside of work?
In my everyday life I like to do things outdoors and spend time with my family.
Responsibilities
Job ID 10018116_POS43102
Date posted 02/17/2022
We are currently hiring Field Service Technicians who have multicraft experience and are open to heavy travel. Our travel technicians work 12 days on, 2 days off, all travel covered door to door.


Field Service Maintenance Technician Specialist
Founded in 1985, ATS is a company with a presence in the United States, Mexico and the United Kingdom. We are professionals in Industrial Maintenance and we make factories run better. Click to learn more about ATS
Summary:
Independently installs, repairs, troubleshoots and maintains equipment such as manufacturing process equipment, robotics, automation, conveyance systems, packaging systems, and ancillary equipment within industrial manufacturing settings. Applies advanced knowledge and expert aptitude of industrial electrical, electronics, controls systems, mechanics, pneumatics, and hydraulics. Has knowledge of and ability to interpret and edit various industry controls programs.
Responsibilities:
Performs expert level break-fix & preventative maintenance. This includes but is not limited to: observing devises in operation to location root cause of problem; dismantling devices to gain access to and remove defective parts; examining parts to detect imperfections; adjustment of functional parts of devices and control instruments; repair and/or replacement of defective parts; testing of device to observe performance; and performing tests for electrical circuitry and mechanical systems; reconditioning and repairing machine tools.
Identifies and sources parts, supplies and repair items as necessary. Performs evaluations of alternatives to improve cost and / or reliability of equipment. Compiles alternative packages for purposes of retrofit, upgrade, or alternative functionality of equipment.
Independently performs maintenance as per industry standards; creates maintenance standards and instructions for altered or new manufacturing equipment.
Directs customer counterparts in maintenance optimization efforts, reliability, and preventative maintenance processes.
May be required to setup and operate multiple machining operations including but not limited to: lathe, drill press, grinder, and other metalworking tools to make and repair parts. May perform welding tasks.
Conforms and complies with customer contractor codes of conduct, housekeeping standards, and safety processes
Documents work performed in service reports, applicable management systems, and written explanation regarding observation and collected equipment performance data. Compiles technical manuals, operations, and maintenance processes relevant to equipment upgrades and automation integrations.
Provides assistance to lower level technicians and leadership to project teams. Performs expert functions as a part of training and development.
Alters, troubleshoots and analyzes complex control systems to resolve in-depth software/ hardware and configuration problems.
Utilizes advanced maintenance technologies to collect equipment performance data. Observes trends and makes recommendations.
Conducts on-the-job training and leads technical programs for technical development of customers and coworkers
Follows all safety related policies, rules, regulations, technical instructions and guidelines. Situational awareness and identify unsafe behaviors and conditions.
Qualifications:
High School Graduate or equivalent (GED).
Associates degree with a Technical focus and 12 years of related experience in specific industry; or, 15 years of experience in specific industry.
Possesses comprehensive understanding of electrical, mechanical, fluid power and control systems. Can analyze the problem, synthesize alternative solutions, and perform repairs.
Must be able to use basic hand tools and specialized tools, and programming software as appropriate.
Extensive travel required. (Local, National, International)
Experience in condition based maintenance techniques, precision mechanical alignments, maintenance of applicable process equipment, and automation integration.
Robust experience in programmable logic controllers, field device troubleshooting, maintenance of electrical drive and motor systems, and motion control devices.
Competencies:
Communications
Customer Focus
Personal Discipline
Safety
Physical Demands and Working Conditions:
While performing the duties of this job, the employee is regularly required to stand; walk; use hands/fingers to handle, or feel; reach with hands and arms; climb, ascend/descend or balance to heights that may require a ladder or lift; stoop, kneel, crouch, or crawl in confined spaces; and talk or hear. The employee is occasionally required to sit. The employee must occasionally lift and/or move more than 50 pounds. The employee is regularly required to use close vision and color vision. The employee is occasionally exposed to outside weather conditions and risk of electrical shock. Work is typically performed in a factory environment and is usually very loud. In the factory environment, the employee may be exposed to hazardous materials and/or greasy or slippery factory floors.
Development and Training:
Development is at the core of what we do and ATS is committed to providing our employees with the opportunity to expand their skillsets. You'll be given the resources and mentorship you need to succeed in a company committed to education, development and organic growth.
Benefits:
Medical, dental, prescription, vision, life and disability insurance and a flexible spending account - save money pre-tax for eligible medical expenses

Employee Assistance Program and Comprehensive Wellness Program

401(k) Retirement Savings Plan with company match - to prepare for your future

Extensive Safety Training, New Hire Orientation, Continuous Learning and Development programs and Tuition Reimbursement

Paid Holidays and Vacation Time - encouraging work-life balance
ATS is committed to providing equal employment opportunity in all aspects of employment to all applicants and employees, regardless of age, color, race, religion, sex (including pregnancy, gender identity, and sexual orientation), national origin, disability, veteran status, genetic information or other legally protected status.
Apply Now
Career Path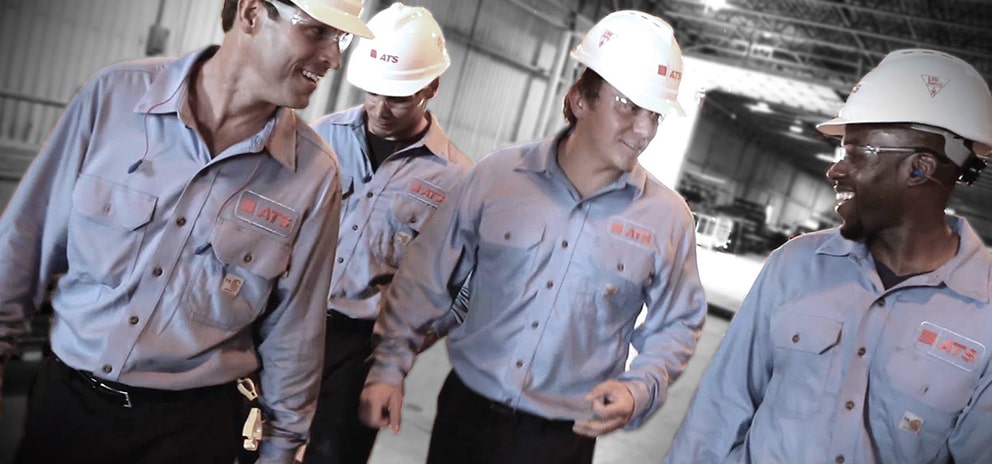 Our maintenance technicians have 2 paths they can take. They can stay on a technical path or a leadership path. On the technical path, we have 5 different technical levels based on experience. This is the progression in order associate maintenance technician, maintenance technician I, maintenance technician II, maintenance technician senior, and maintenance technician specialist. We have a technician progression program that allows technicians starting out in their craft to progress to mid level technician after 3 years. This program is for employees coming in as an associate technician or a technician. We focus on their technical development through the 70-20-10 learning model. We have our Skill Point training product to support them along the way. For all of our maintenance technicians, we require them to take an annual technical assessment. From this assessment and weighing in other factors, they have a development plan put in place in order to align them with their long and short term career aspirations.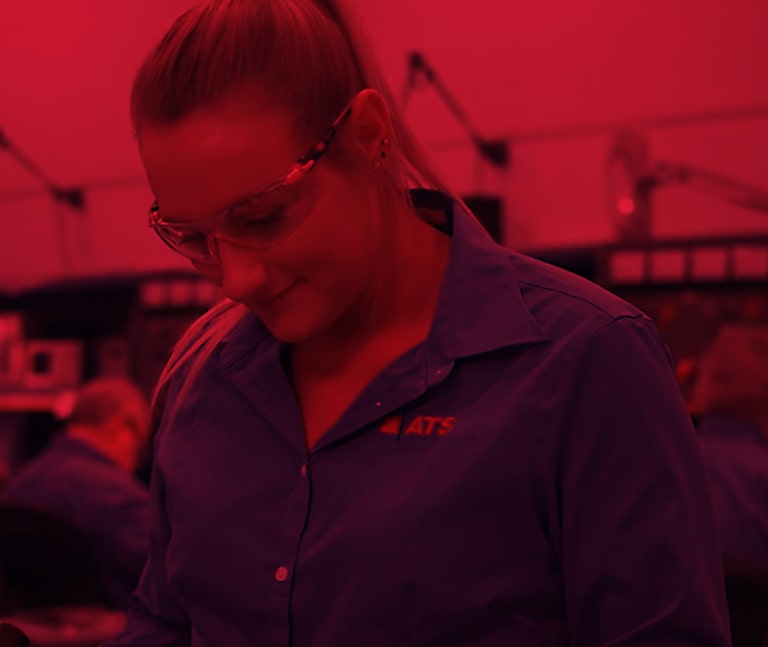 Associate Maintenance Technician

Maintenance Technician I

Maintenance Technician II

Senior Maintenance Technician

Maintenance Specialist
Benefits & perks
Healthcare

Medical

Dental

Vision

Healthcare FSA

401(k)/Retirement Plans

Employer Matching

Tutition Reimbursment

Professional Development

Paid Time Off

Holidays

Relocation Reimbursement