We don't work without you
Site Supervisor Night Shift - $3,000 Sign on Bonus!
Pontiac, Illinois
08/29/2023
4270239006
Overview
An ATS leader is defined as anyone who inspires, guides and influences others in our business. While ATS leaders have a wide variation in leadership experience, all believe deeply in continuous improvement, including the ongoing development of leadership capabilities and employee competencies. ATS leaders look to the future but know how to lead a team to quickly get the right things done the right way. ATS leaders are trusted and transparent — people at work and in their communities look to them for support and guidance.

Our ATS leaders are accountable for their actions and drive accountability to our priorities and goals through clarity of what needs to be done and why. They communicate proactively and regularly with each other and with employees at all levels.
Success Profile
What makes a successful ATS Leader? Check out the top traits we're looking for and see if you have the right mix.
Collaborative
Communicator
Critical Thinker
Facilitator
Relationship expertise
Leadership
Meet our people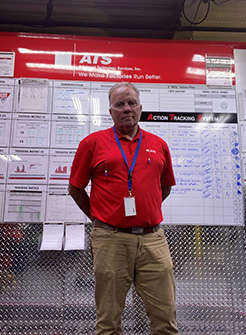 Vic G.
Site Manager
What have you done to help you get promoted
I shadowed a leader who was gifted in bringing his team up with him. On-the-job learning, especially on WEM, and trying new things, like "Doc Palmer's Maintenance Planning & Scheduling Handbook."
What advice would you give others at ATS?
Mentor. You see team members who outperform on every challenge they have before them. As you move along, elevate your team alongside you.
What's next for you?
Achieve FMS OS Gold certification for my site, become a Safety Trained Supervisor, and get promoted to a Senior Site Manager.
Jay D.
Regional Planner/Scheduler
What have you done to help you get promoted
I am extremely passionate about the Planning/scheduling role and process. I thoroughly enjoy being able to mentor new Planners, which has allowed me to share my knowledge with new, young talent. Volunteering to pilot new programs gave me and my site the ability to be a part of driving positive cultural change. Being part of a team that helps drive efficiency and standardization motivates me to come to work every day.
What advice would you give others at ATS?
Be passionate about what you do and how you do it. Show initiative and take ownership. Be willing to help develop your team by sharing your knowledge and past experiences.
Jason M.
Site Supervisor Caterpillar
What have you done to help you get promoted
I took all the training I could on ToolingU for leadership and management and filled in for my Supervisor whenever he was out.
What advice would you give others at ATS?
Do not be afraid to try new things. No matter what you're doing, always try and get a little better each day.
What's next for you?
Concentrate on my new responsibilities and help others move up in their careers.
Responsibilities
Job ID 4270239006
Date posted 08/29/2023
Founded in 1985, ATS is a company with a presence in the United States, Mexico and the United Kingdom. We are professionals in Industrial Maintenance and we make factories run better.
Fundada en 1985, ATS es una empresa con presencia en los Estados Unidos, México y el Reino Unido. Somos profesionales en mantenimiento industrial y hacemos que las fábricas funcionen mejor.
Principal Duties/Responsibilities:
To Live and Lead Safety
· Manages the Site Safety Program and ensures all policies are being followed by employees
· Drives housekeeping standards, including 5S
· Demonstrates leadership for employee safety and/wellness through Beyond Zero initiatives
To Inspire and Provide Clarity on Vision and Strategy
· Develops and displays a thorough understanding of site-level and company-wide strategic initiatives
· Actively supports positive change, working with the site staff to ensure understanding and effective implementation of new processes and procedures
· Communicates with the team to promote an understanding of the relationship between site actions and results and overall strategic objectives
To Own Our ATS Culture
· Drives day-to-day execution of team-related responsibilities/team priorities using the leadership competencies that support our ATS culture
· Displays behaviors that align with being self-motivated and emotionally intelligent
To Support Our Employees' Learning and Growth
· Manages employee performance and provides development opportunities
· Mentors/coaches employees regarding career planning, training, skills development using ongoing one-on-one communication
To Ensure and Drive our Business Results
· Leads and ensures the Operating System is understood, reinforced, and embedded
· Assists Site Manager in measuring and reporting key maintenance performance indicators including root cause analyses. Delivers on related action items, removes barriers, and addresses issues in order to promote continuous improvement
· Communicates and escalates priorities, issues, and equipment status to the customer as needed, playing a key role in developing and sustaining a positive and profitable relationship with the customer
· Assists Site Manager in managing expenses, such as labor, overtime, and material consumption. Approves any overtime worked by the team.
· Reviews work orders and ensures adherence to work schedules. Identifies and rectifies any gaps.
· Conducts and participates in team meetings as an influential leader.
Knowledge, Skills, Abilities (KSAs), & Competencies:
Essential KSAs:
· Associate's degree or equivalent from a two-year college with a minimum of 3 years of experience in a related field or an equivalent combination of education and experience
· Strong communication skills – verbal and written
· Strong computer skills, including Microsoft applications, web-based applications, and CMMS software
Desirable KSAs:
· Foundational business acumen (understanding contracts and the customer's business, negotiation, billing models, financial experience, relationship building)
· Planner/scheduler experience ideal
ATS is committed to providing equal employment opportunity in all aspects of employment to all applicants and employees, regardless of age, color, race, religion, sex (including pregnancy, gender identity, and sexual orientation), national origin, disability, veteran status, genetic information or other legally protected status.
ATS se compromete a brindar igualdad de oportunidades de empleo en todos los aspectos del empleo a todos los solicitantes y empleados, independientemente de su edad, color, raza, religión, sexo (incluido el embarazo, identidad de género y orientación sexual), origen nacional, discapacidad, estatus de veterano, información genética u otro estatus legalmente protegido. Revisión de la política de privacidad aquí here.
Privacy policy review here.
Apply Now