We don't work without you
Skillbridge Leadership Program (Active Military Only)
06/19/2023
4244503006
Overview
An ATS leader is defined as anyone who inspires, guides and influences others in our business. While ATS leaders have a wide variation in leadership experience, all believe deeply in continuous improvement, including the ongoing development of leadership capabilities and employee competencies. ATS leaders look to the future but know how to lead a team to quickly get the right things done the right way. ATS leaders are trusted and transparent — people at work and in their communities look to them for support and guidance.

Our ATS leaders are accountable for their actions and drive accountability to our priorities and goals through clarity of what needs to be done and why. They communicate proactively and regularly with each other and with employees at all levels.
Success Profile
What makes a successful ATS Leader? Check out the top traits we're looking for and see if you have the right mix.
Collaborative
Communicator
Critical Thinker
Facilitator
Relationship expertise
Leadership
Meet our people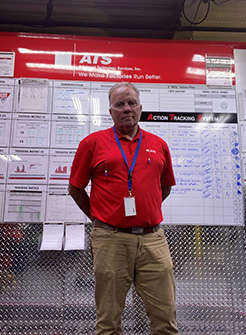 Vic G.
Site Manager
What have you done to help you get promoted
I shadowed a leader who was gifted in bringing his team up with him. On-the-job learning, especially on WEM, and trying new things, like "Doc Palmer's Maintenance Planning & Scheduling Handbook."
What advice would you give others at ATS?
Mentor. You see team members who outperform on every challenge they have before them. As you move along, elevate your team alongside you.
What's next for you?
Achieve FMS OS Gold certification for my site, become a Safety Trained Supervisor, and get promoted to a Senior Site Manager.
Jay D.
Regional Planner/Scheduler
What have you done to help you get promoted
I am extremely passionate about the Planning/scheduling role and process. I thoroughly enjoy being able to mentor new Planners, which has allowed me to share my knowledge with new, young talent. Volunteering to pilot new programs gave me and my site the ability to be a part of driving positive cultural change. Being part of a team that helps drive efficiency and standardization motivates me to come to work every day.
What advice would you give others at ATS?
Be passionate about what you do and how you do it. Show initiative and take ownership. Be willing to help develop your team by sharing your knowledge and past experiences.
Jason M.
Site Supervisor Caterpillar
What have you done to help you get promoted
I took all the training I could on ToolingU for leadership and management and filled in for my Supervisor whenever he was out.
What advice would you give others at ATS?
Do not be afraid to try new things. No matter what you're doing, always try and get a little better each day.
What's next for you?
Concentrate on my new responsibilities and help others move up in their careers.
Responsibilities
Job ID 4244503006
Date posted 06/19/2023
Founded in 1985, ATS is a company with a presence in the United States, Mexico and the United Kingdom. We are professionals in Industrial Maintenance and we make factories run better.
Fundada en 1985, ATS es una empresa con presencia en los Estados Unidos, México y el Reino Unido. Somos profesionales en mantenimiento industrial y hacemos que las fábricas funcionen mejor.
Being a Leader in Industrial Maintenance
Advanced Technology Services (ATS) has a deep-rooted history of hiring and supporting our nation's military. This drove us to seek out involvement in DOD SkillBridge Programs for Leadership, setting those who are transitioning out of military service up for success. We understand the value you bring to the table as a leader in the military and it is our goal to provide you with the greatest opportunity possible to utilize those skills in a new civilian career. When you join us for your SkillBridge program, you will get just a small taste of what ATS has to offer you outside of the Armed Services.
At ATS, we are, and have always been, a people company. A core pillar of our culture is Value Employees, and you'll see that in action every day. Our employees experience competitive pay and benefits, as well as opportunities for continuous career growth. At ATS, you drive your future! Whether it's progressing through our Technician Development Program or completing a Leadership Development Program, the opportunities for a fulfilling career are
endless. With around 20% of veterans in our ranks, you'll feel right at home, and be in the company of others who strive for the best! We are so excited to have you join the ATS Team for SkillBridge and beyond!
Program Overview
• 90 days
• Multiple locations throughout the U.S.
• Curriculum will cover Military Transition, Safety, Culture,
Leadership Essentials, Human Resources, and more
• Learning will be facilitated in three methodologies –
On the Job Training, Mentorship, and Classroom Training
• Upon completion of the training, there will be an exit
interview and potential job offer.


Potential Career Paths
• Planner Scheduler
• Site Supervisor
• Site Manage
ATS is committed to providing equal employment opportunity in all aspects of employment to all applicants and employees, regardless of age, color, race, religion, sex (including pregnancy, gender identity, and sexual orientation), national origin, disability, veteran status, genetic information or other legally protected status.
ATS se compromete a brindar igualdad de oportunidades de empleo en todos los aspectos del empleo a todos los solicitantes y empleados, independientemente de su edad, color, raza, religión, sexo (incluido el embarazo, identidad de género y orientación sexual), origen nacional, discapacidad, estatus de veterano, información genética u otro estatus legalmente protegido. Revisión de la política de privacidad aquí here.
Privacy policy review here.
Apply Now